West Yorkshire burglary rates 'highest figures'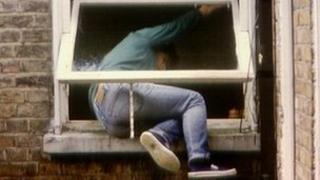 Homes and businesses in West Yorkshire face the highest burglary rate in England, a police watchdog has shown.
Burglaries figures across the county exceed any other force in England or Wales, Her Majesty's Inspectorate of Constabulary (HMIC) says.
Police and Crime Commissioner candidates in the county said they would deal with the problem.
The HMIC figures show 14 burglaries per 1,000 people in the county. In rural Wales the figure is three per 1,000.
By comparison, the burglary figures for Greater Manchester in the same period came to 11 per 1,000 population and in Merseyside to 9.5 per 1,000 population.
Public confidence 'increasing'
The figures were complied across all the forces covering England and Wales up to July this year.
West Yorkshire Police said: "Reducing the number burglaries is a top priority for West Yorkshire Police and Home Office statistics released last week, showed house burglary fell in the county by more than 20% between June 2011 and June 2012.
"It is clear that the many initiatives and hard work we have put in place to tackle this are having a significant effect."
Candidates' views
The four candidates standing for the role of Police and Crime Commissioner in the county said they would look at the burglary rates.
Labour candidate Mark Burns-Williamson said: "Burglary's a big issue in West Yorkshire where figures show we have some of the country's worst hit areas, but neighbourhood policing introduced by Labour is making a big difference.
"In places like Hyde Park burglary rates have fallen sharply because of good neighbourhood policing - I'm the only candidate pledging to protect all our neighbourhood policing teams."
Geraldine Carter, the Conservative candidate, said: "I think we go back to the issue of our police officers not sat behind a desk shuffling papers and they're out on the streets where they belong."
Cedric Christie, and independent candidate for the PCC role who is a former police officer said: "I have a lot of experience in tackling burglary.
"I worked in Leeds in the Hyde Park, Woodhouse and Little London area.
"We got out into the communities, we listened to the communities and we went to scenes of crime.
"We got involved with criminals and developed informants and worked with scenes of crime officers - we had a fantastic effect."
Liberal Democrat candidate Andrew Marchington said: "When somebody is caught (committing crime) we need to make sure the punishment is effective.
"We need to understand why they committed that crime, is it because they're involved with drugs? In which case they need treatment.
"If it's because they have not got something else to do, in which case as part of the sentence, an effective sentence, there needs to be a look at the skills they need, literacy skills, numeracy skills and work skills so when they've completed the sentence they can go and do something positive".