IPCC says Bettison Hillsborough prosecution still possible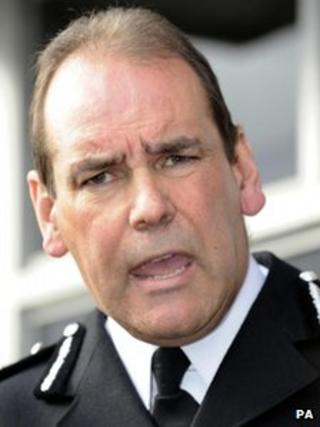 Sir Norman Bettison's resignation does not stop him being prosecuted should criminal offences be identified, the police watchdog has warned.
The Independent Police Complaints Commission (IPCC) is looking into the chief constable on two counts.
One allegation is that he provided misleading information after the Hillsborough tragedy when 96 fans died.
Sir Norman quit saying the inquiry into his role after the 1989 disaster was "a distraction" to West Yorkshire Police.
In a statement, the IPCC said: "Retirement or resignation does not prevent criminal prosecution should the investigation identify criminal offences, including misconduct in a public office."
Sir Norman is also facing a second allegation that he "attempted to influence the decision-making process of the West Yorkshire Police Authority in connection with the referral that they had made".
'Came as surprise'
In its statement, the IPCC said it had written to the police authority on 23 October with a provisional view about whether the allegations which are the subject of the second investigation would amount to misconduct or gross misconduct [i.e. whether they would justify dismissal].
The commission said: "We were aware that the police authority were meeting at lunchtime to discuss this.
"In accordance with the legislation, we had advised the police authority that suspension was a matter for them, but we should be consulted.
"We were not informed of Sir Norman's resignation in advance of the stories appearing in the press and the decision came as a surprise to us.
"We are seeking clarification from West Yorkshire Police Authority."
The watchdog added: "It should be noted we can and, in this case, will investigate both criminal offences and misconduct matters after an officer has retired or resigned as it is in the public interest to do so.
"Retirement or resignation precludes any internal misconduct sanction as once an individual leaves the police service there is no opportunity to take disciplinary action."