Sir Norman Bettison profile: Cadet to chief constable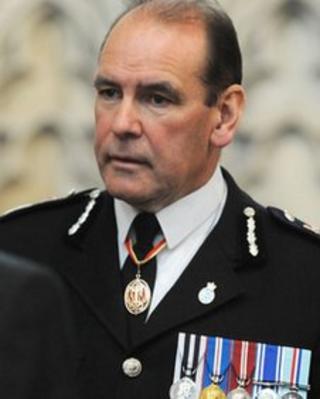 West Yorkshire Police's chief constable, who found himself at the eye of the storm following the Hillsborough papers revelations, has attracted public criticism and opposition from within his current force.
Sir Norman Bettison, 56, has been referred to the Independent Police Complaints Commission over allegations he provided misleading information after the stadium tragedy in 1989 in which 96 people died.
He is also under investigation for allegations that he "attempted to influence the decision-making process of the West Yorkshire Police Authority in connection with the referral that they had made".
He had faced calls to resign following the Independent Hillsborough Panel Report into the tragedy which laid bare a police cover-up attempting to shift the blame on to victims.
Allegations around integrity
In a statement last month, Sir Norman said: "Fans' behaviour, to the extent that it was relevant at all, made the job of the police, in the crush outside Leppings Lane turnstiles, harder than it needed to be."
He apologised a day later saying Liverpool fans were "in no way to blame" for the disaster and that he was sorry if he had "caused any further upset".
Earlier this month, he said he planned to retire in March and hoped his decision would "enable the Independent Police Complaints Commission to fully investigate allegations that have been raised about my integrity".
Rotherham-born Sir Norman started his career as a 16-year-old cadet with South Yorkshire Police and rose through the ranks.
In 1993 he was appointed assistant chief constable of West Yorkshire Police.
His career has spanned 39 years of policing taking in three forces (West and South Yorkshire and Merseyside) and a number of national responsibilities.
In 1998, he left West Yorkshire Police to become the chief constable of the Merseyside force - a move that was vehemently opposed by a number of families of those who died at Hillsborough.
Queen's Police Medal
He later left Merseyside Police and in 2005 became the chief executive of Centrex, an organisation providing support and training to police forces and overseas law enforcement agencies.
In January 2007, he returned to mainstream policing with his appointment as the chief constable of West Yorkshire.
When he took up the post, Sir Norman ordered a review of shift patterns worked by officers.
The subsequent changes proved deeply unpopular with many officers, with some claiming they were more tired as result of the new pattern than on the previous Force Standard Duty Rosta.
Following his resignation, Sir Hugh Orde, president of the Association of Chief Police Officers, said: "Sir Norman Bettison has given nearly 40 years of his life to public service, during which his contribution at both local and national level has helped keep citizens safe and deliver better policing.
"As he has pointed out, there is a due process to deal with allegations, including those made from the floor of the House, through the IPCC and criminal law."
Sir Norman holds a master's degree in philosophy and psychology from Oxford University and a master's degree in business administration from Sheffield Hallam University.
He is also a graduate of the FBI Executive Programme.
He was awarded the Queen's Police Medal for distinguished service in the Millennium Honours List, and received a Knighthood in the Queen's Birthday Honours list for services to policing in 2006.