Bronte sisters chapel at Thornton targeted by thieves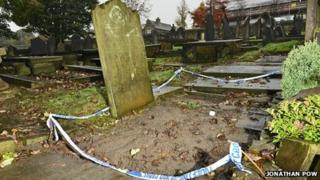 Gravestones have been stolen from a cemetery during a vandalism attack at the West Yorkshire church where the Bronte sisters were baptised.
Thieves stole 200-year-old burial slabs from the graveyard and took stones from the walls of the Grade II listed Bronte Bell Chapel at Thornton, near Bradford.
Part of the nearby Bronte Way footpath was also removed.
Patrick Bronte worked at the chapel where his daughters were baptised before moving to Haworth.
West Yorkshire Police said the thefts and damage were "despicable".
Volunteers had worked for 12 years to restore the cemetery and chapel where young Patrick Bronte once preached against Napoleon.
Wellington's victory
Although Charlotte, Emily and Anne Bronte are closely associated with the parsonage a few miles away in Haworth they were born in Thornton where their father earned his living from 1815 to 1820.
All three were born in Market Street and Patrick preached his first sermon in the chapel - about Wellington's victory over Napoleon at Waterloo.
The damage was discovered on Saturday by members of a group set up to restore the site when they went to tend the graveyard.
As well as removing slabs from the Bronte Way that links points of Bronte interest across the moor land that inspired Wuthering Heights, graves had been attacked.
Two horizontal grave slabs measuring 6ft (1.83m) by 3ft (91cm) and four-inches (10cm) deep were pulled out of the ground and removed.
More than a dozen other graves were also interfered with by having the pieces of York Stone used to top them off removed.
Coping stones were taken from the chapel and much of the churchyard footpath lifted.
Historic site 'desecrated'
Church warden Steven Stanworth said he considered the thefts a desecration of the ground.
He said: "We are proud of our achievements in making Bronte Bell Chapel and surrounding graveyard a place where people can now visit to enjoy its history, beauty and nature.
"It is a historic site and it has been desecrated. This was a despicable and awful crime."
Police patrols were stepped up around the cemetery, opposite St James Church in Thornton Road, after the damage was discovered.
Det Insp Mark Long, from West Yorkshire Police, said: "This is quite clearly a despicable act which will cause great offence in the local community."
Bradford councillor Susan Hinchcliffe, who is responsible for tourism in the area, said history "had been thrown away".