Shannon Matthews' father bids to block case report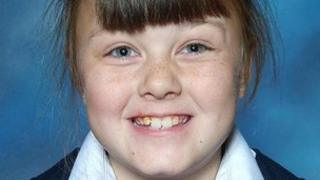 The father of Shannon Matthews has asked the High Court to block the release of a report he believes will "seriously compromise" her.
Shannon disappeared from her home in Dewsbury Moor, West Yorkshire, for more than three weeks in February 2008.
Her mother, Karen, was jailed for eight years for her part in the abduction.
Shannon's father, Leon Rose, says a full report of the case by Kirklees Safeguarding Children Board would cause his daughter "upheaval".
Nine-year-old Shannon was found 24 days after being reported as missing.
She was discovered in the base of a bed in the flat of her stepfather's uncle, Michael Donovan, who was also jailed for eight years.
'Seriously compromise'
A summary of the Kirklees review findings was released in 2010, but a "redacted" version of the full report is due to be published.
A lawyer representing Shannon's father told Mr Justice Holman that if a "redacted" version of the Kirklees Safeguarding Children Board report is made public it would cause the schoolgirl "upheaval" as she continues to "heal from her ordeal".
Anthony Hayden QC told the court: "While it is possible, at least theoretically, to revise the report in a way that makes it perfectly plain that the father is a positive and important influence in Shannon's life, nothing can prevent the upheaval to her life that will be caused by the publication of this document.
"That is primarily why we are seeking to resist publication."
Mr Hayden argued that if the document was published, even in its redacted form, it would "seriously compromise the delicate progression of Shannon's therapeutic work" and her "settling into" a stable adolescence and adulthood.
For the balance to fall in favour of publication, it "must outweigh pressing welfare imperatives".
The hearing continues.