Builder home after Greek robbery allegations ordeal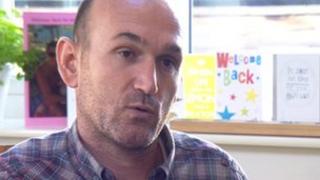 A builder on a business trip to Greece who found himself jailed for alleged historic armed robberies said his ordeal was "not for a human being".
Fran Prenga, 34, from Otley, West Yorkshire, went to the Greek island of Rhodes in May but was arrested.
Five months after being held in jail Mr Prenga has finally been declared "innocent" by Greek courts.
His MP, Greg Mulholland, said he was "absolutely delighted" that Mr Prenga was back home.
Mr Prenga, originally from Albania, went to the island to help his brother start a business.
But when he went to a local police station to sign papers, he was arrested.
'Nightmarish ordeal'
He was held in jail accused of armed robberies in Athens in 2005 and told he had been convicted in his absence of possessing a gun by a court in 2008.
He said he was unaware of either of the allegations and travelled to Rhodes.
He said: "The jail conditions were really bad, not for human beings.
"The people are all put together, whoever has done a crime or those innocent, like myself, in the same cell.
"When you're behind the bars there's nothing you can do, just pray and hope."
Mr Prenga's wife said: "You're living in a nightmare, thinking when is it ever going to end."
"You just think 'why is this happening to us?'"
The family said they estimated the ordeal had cost them £100,000, a total made up of £50,000 in legal fees, travelling costs and lost business.
Mr Mulholland said: "I am absolutely delighted that Fran now, finally, after this nightmarish ordeal is back home in Otley with his family.
"It's something we've been campaigning for and lobbying for for the last few months.
"But it is an awful case.
"Politically the Foreign and Commonwealth Office must make clear that his treatment was unacceptable and this case is simply not an acceptable way for an EU member nation to behave."
In a statement the Foreign and Commonwealth Office said: "We can confirm the arrest of British national Fran Prenga in Rhodes on 8 May.
"The Minister for Europe, David Lidington, met with Greg Mulholland, MP, and Mr Prenga's family on 11 July to discuss the case and we continue to provide consular assistance to Mr Prenga".