Butterley Reservoir battle over Victorian spillway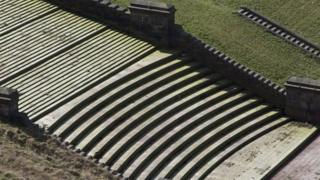 A West Yorkshire reservoir is at the centre of a battle to preserve part of its Victorian architecture.
Butterley Reservoir's stone spillway, near Marsden, was built to cope with overflows during periods of heavy rain.
The Victorian Society said owners Yorkshire Water planned "to remove its steps and replace the sandstone walls with coloured concrete."
Proposed changes were "legally required to ensure it is operationally fit for purpose", the firm said.
The Grade II-listed reservoir has been included on the Victorian Society's list of the 10 most endangered buildings in England and Wales.
It added the spillway, built between 1891 and 1906, was an example of industrial architecture with "a beauty of its own".
'Beauty over function'
Save Butterley Spillway campaigner Diane Ellis, from Marsden near Huddersfield, said: "It's a local landmark. It signifies the Victorian passion for beauty over function.
"It has a beautiful acoustic value when water is trickling down."
The current plans were "vandalism and reckless" she added.
In a statement Yorkshire Water said: "A huge amount of planning and consultation" had taken place.
Altogether eight options were considered for the "iconic landmark" but replacing the slipway was the preferred option, the firm said.
The new slope had to be "uniform" but steps would replicate the existing ones as much as possible.
The blocks taken from the spillway would be used to clad the outside of the new, higher walls and any stone left would be used to create walls, the company added.