Leeds Bradford Airport rail link 'to happen'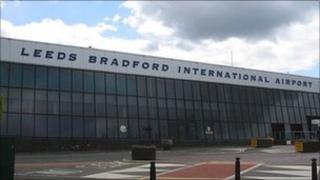 Plans for a rail link at Leeds Bradford Airport should happen in the next 10 years, the leader of Leeds City Council has said.
Improving public transport to the airport from cities and towns forms part of a £1bn upgrade of the transport infrastructure across West Yorkshire.
Councillor Keith Wakefield said: "I'm optimistic we'll put something there in the next five to 10 years."
Other improvements could see an expansion of the trolleybus scheme.
Mr Wakefield said: "Although you could improve the roads I think the key to all this improvement is through public transport investment.
"I think we've got to have a good offer to get people out of cars.
"Most people will go to Leeds Bradford Airport by car or by taxi and I think what you need to do is put a significant public transport option on for people to take that choice."
Plans for the rail link are expected to be discussed by councillors later as they meet to debate the £1bn transport fund.