Bradford One in a Million free school 'to open in 2013'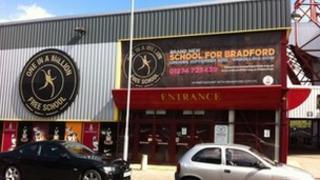 A free school in Bradford, which was axed days before it was due to open after the government withdrew funding, is to open next year.
The One in a Million Free School was due to open on 3 September but funding was withdrawn because it had failed to attract enough pupils.
The charity behind the school said it would now open in September 2013.
Charity co-founder Wayne Jacobs said: "We're absolutely delighted. So much hard work has gone into this."
Mr Jacobs said notification of the go-ahead had been received from the education minister Lord Hill.
He said: "Our world was turned upside down in August and since then we've fought so hard to get it back to where it is now and this is just incredible news."
Mr Jacobs said an open evening held last week was successful and 50 children had so far signed up to the school.
A Department for Education spokesperson said: "Opening a free school is very difficult. We have extremely rigorous criteria to approve applications to ensure taxpayers' money is being spent wisely.
"The One in a Million proposal is innovative and will add real value to the local area.
"Unfortunately, the group was not in a position to open this year, but is confident of being able to do so in September 2013. We want to support them to do so."
Free schools are run by groups including faith organisations, parents' groups or charities. They are independent of local authority control and funded by central government.