Yorkshire man to help run post office in Antarctica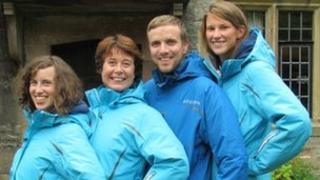 A man from Huddersfield will spend four months helping to run the world's most southerly post office.
Ben Kaye, 28, will be working for the UK Antarctic Heritage Trust (UKAHT), which works to preserve the region's historical buildings.
The university student will live with three other team members at Port Lockroy, a former British research station on the Antarctic Peninsula.
Mr Kaye said the trip was a "dream come true".
The 1940s base has been restored as a "living museum" for tourists visiting the Antarctic.
It is only accessible by ship during the southern summer when the ice is thin enough to allow vessels to dock.
According to the UKAHT, the museum is the continent's most visited place with 15,000 people passing through each year.
Earlier this year the 100th anniversary was marked of Captain Robert Scott's doomed attempt to be the first person to reach the South Pole.
Mr Kaye said: "Working in the Antarctic is a privilege that very few people get to experience and to be there in 2012, the centenary year of Scott's expedition to the South Pole, will make it even more special".
As well as helping run the post office and gift shop Mr Kaye will be involved in counting penguins as part of a research project for the British Antarctic Survey.
He will leave for the Antarctic in early November.