Jimmy Savile: Yorkshire rejects tainted legacy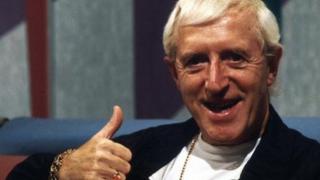 Just over a year ago, his body was conveyed in a gold coffin through the streets of Leeds as thousands lined the route to say goodbye to one of the city's most famous sons.
Now, such adulation for Sir Jimmy Savile seems unimaginable.
In the light of growing allegations of sexual abuse carried out by the BBC broadcaster, the mood has turned decidedly against him - not least in his home city.
Even those who just weeks ago would have considered Savile a friend now view him with revulsion.
'Personally disgusted'
Leon Parish, from Leeds, who got to know Savile in the 1960s, has kept mementoes of their friendship in a scrapbook for over 40 years.
Now, he looks at them in disgust - going so far as to angrily tear up a greetings card bearing the message, "Cheers mate, Sir Jimmy Savile".
"I don't want nothing else to do with it. It's not a memento, it's just something I really don't want," he said.
Mr Parish was one of hundreds of people to attend an auction of Savile memorabilia in July, even bidding for one of the DJ's famous Rolls Royce cars.
Then, it was a case of wanting something to remember him by. Now, Mr Parish just wants to forget.
"People wanted a piece of Jimmy Savile. They wanted to say this was Jimmy's. I'm proud, I come from Leeds and so does Jimmy and I wanted a little bit of him," he said.
"But now, it's just amazing. You can't believe what's happened. I'm personally disgusted by it all."
'Damaging past'
The Met Police now has 340 potential lines of inquiry in relation to allegations against Savile and is in contact with 40 potential victims.
Sylvia Nicol, a former trustee of the Jimmy Savile Stoke Mandeville Hospital Trust, said the allegations emerging about the fundraiser had turned her world "upside down".
"It's almost like finding out that your father who has died was not your father," she said.
In the street where Savile spent his childhood years, Consort Terrace in the Burley area of Leeds, it is hard to believe it was less than a year ago his cortege was passing by amid hushed crowds.
Local resident and Leeds University student Harry Jellicoe said everyone he knew was shocked by the allegations against Savile and he was worried over the impact it would have on the charities connected with him.
"I know he was involved with charity at the uni because I was doing work there, so it's quite shocking to then look at that and think is that going to be completely tainted now?
"There was such a lot of hype around his death, especially here in Leeds, and I guess no-one wants to know that such a prominent figure in society has had such a damaging past."
'Get rid of him'
However, another Consort Terrace resident, Abby Lilley, said she was surprised by what she had heard about Savile and urged against a trial by media.
"It could be lies, it could be true. You never know until it's been investigated. Innocent until proven guilty and all that," she said.
But the general mood has hardened against Savile across the whole of Yorkshire.
A footpath sign in Scarborough commemorating Savile, who often stayed in the seaside town, was taken down by the borough council.
A plaque outside his former flat there was also removed after the words "rapist" and "paedophile" were written on it.
Leeds City Council took Savile's name off an inscription on a wall commemorating high profile citizens at the city's Civic Hall, and the owners of a conference centre in Leeds named after the former star announced it would be rebranded "out of respect" for public opinion.
Even a triple headstone marking Savile's grave in Scarborough's Woodlands Cemetery, which was only installed in September, has been dismantled and taken away for landfill, according to his family's wishes in the wake of the abuse allegations.
But that, said Alec Shelbrooke, Conservative MP for Elmet and Rothwell, still might not be enough.
"If he's found guilty, I believe he should be moved to an anonymous burial site, that all references to him on the streets should be removed, that the charitable trust should be moved into other trusts so that the money can go to good causes," he said.
One woman in Scarborough, asked of her views on Savile, put it another way: "Get rid of him. Get rid of the man. He doesn't exist any more."