Jimmy Savile 'abused girl, 12, in Leeds care home'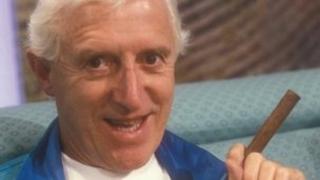 A woman has claimed Sir Jimmy Savile abused a young girl during a visit to a children's home in West Yorkshire.
The woman, who does not wish to be named, told BBC Radio Leeds the attack happened at a council-run home she stayed at in Leeds in the 1970s.
She said the 12-year-old victim told her Savile indecently touched her after they went upstairs together.
Leeds Safeguarding Children Board said it had not, to its knowledge, received any complaints about Savile.
The Metropolitan Police is leading an inquiry into claims of abuse against the Leeds-born presenter and is pursuing 340 separate lines of inquiry.
The force said it was in contact with 40 potential victims and had officially recorded 12 allegations of sexual offences but expected that number to grow.
'Ran upstairs'
The BBC will hold its own inquiry into allegations Savile abused girls while working for the corporation after the police investigation is completed.
Several hospitals are also investigating allegations he preyed on children during visits to wards.
The woman said the woman in charge of the care home "was uncomfortable" about Savile but a new member of staff allowed him to visit.
She said he sat in the dining room with the children before taking the 12-year-old upstairs to the bedrooms.
She said when the woman in charge realised what had happened she "ran upstairs and found him".
"You could hear it, there were raised voices from the staff room and then she just ran upstairs," the woman said.
She said Savile was told to leave and banned from further visits.
"A social worker came down," she said, "and basically he came back the next day and said it would be his word against Jimmy Savile and it would be unfair to put a girl through the procedure of a police investigation that probably will end in nothing and ruin a man's career."
In a statement Jane Held, independent chairwoman of the Leeds Safeguarding Children Board, said it shared concerns being expressed nationally about Savile.
She said: "We have not to the best of our knowledge received any complaints or allegations about Jimmy Savile, but if any now come to light we will co-operate fully with any police investigation.
"Once any police investigation is completed we will conduct a rigorous review with all our partners of any information relating to Leeds residents. We would encourage anyone who has got information or concerns to report them."