Wakefield Prison inspectors call for closure of wing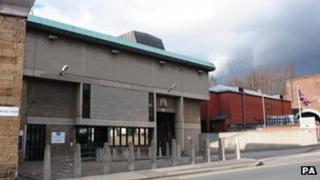 A wing of a high-security prison containing some of the UK's most dangerous criminals should be closed as soon as possible, inspectors have said.
The wing, at Wakefield Jail, was "fundamentally unsuitable" for holding prisoners, a report by Her Majesty's Inspectorate of Prisons has found.
Inspectors found cells in the wing to be cramped and "cage-like".
However, the prison as a whole was making "slow but tangible progress", HM inspectors said.
The governor of Wakefield Prison was unavailable for comment.
'Cage-like cells'
The jail holds about 750 men at any one time, many of whom are serious sex offenders.
Among the criminals who have been held there are Soham killer Ian Huntley, crossbow cannibal Stephen Griffiths and Milly Dowler's murderer, Levi Bellfield.
HM Inspectorate of Prisons said the findings of its report to the Prison Service were based on conditions observed there during an unannounced visit in May.
The report highlights conditions in F-Wing, which contains a segregation unit and a Close Supervision Centre (CSC) which holds the jail's most "challenging" inmates.
Conditions in the CSC were "inadequate" with cells found to be small and with insufficient natural light, inspectors said.
'Unfit for purpose'
Exercise yards in the CSC were "grim", and most prisoners spent the day locked in their cells with nothing meaningful to do, inspectors said.
Most of the men held in the CSC had lived in these conditions for about three years, but one for as long as 11 years.
The whole of F-wing should be designated as "unfit for purpose" and closed as soon as possible, inspectors concluded.
While the jail was "stable and generally safe", Chief Inspector of Prisons Nick Hardwick said more attention must be paid to areas such as the segregation unit and the CSC.
Michael Spurr, chief executive officer of the National Offender Management Service, said it was encouraging that the Chief Inspector recognised "real progress" was being made at Wakefield.