Jimmy Savile: Hospitals investigate abuse claims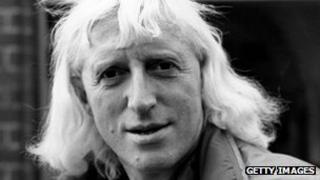 Hospitals are investigating allegations that TV presenter Sir Jimmy Savile preyed on children during visits to wards as part of a catalogue of abuse.
Leeds General Infirmary has received two complaints of sexual assault by Savile dating back to the 1970s.
It is also claimed he groped patients at Stoke Mandeville Hospital, Bucks, where he was a volunteer fundraiser.
Meanwhile a newspaper report that Savile abused a patient at Broadmoor is being investigated by its NHS trust.
The Sun claimed he assaulted a 17-year-old patient during a visit as a hospital fundraiser in the 1970s.
But West London Mental Health NHS Trust said it had not been approached by police or any former patients or their representatives with any allegations.
The Metropolitan Police is now leading an inquiry into claims of abuse against the Leeds-born presenter and is pursuing 120 separate lines of inquiry.
A further two forces have referred a total of three new complaints to Scotland Yard, it has emerged.
The BBC will also hold an inquiry into allegations Savile abused girls while working for the corporation after the police investigation is completed.
A figure from outside the corporation will chair it.
'Nasty, horrible man'
Savile had a long-association with the Leeds General Infirmary which included him volunteering during the 1960s and 70s and undertaking charity work until his death in October 2011.
At one time he also worked as a porter at the hospital.
Former patient June Thornton said that when she was recovering from an operation there in May 1972 she saw Savile molest a brain-damaged girl.
"I thought at the time that he was a relative but then he started kissing her neck, running his hands up and down her arms and then started to molest her," she said.
"Now I just need him to be seen for what he is, a nasty, horrible man to a very vulnerable young lady. She couldn't fight back, couldn't give her consent to anything could she?"
The Leeds Teaching Hospitals NHS Trust said it had not received any complaints about Savile during that period.
Andrew Bannister, trust spokesman, said: "Two individuals have contacted the hospital to share their concerns about things that happened with Jimmy Savile in the 70s but these contacts have only come to light in the last few days since the upsurge of publicity.
"Clearly we will be liaising closely with the police because we also want to know what, if any, evidence they might have about any wrong behaviour in Leeds."
Mr Bannister said the hospital was surprised by the allegations.
"We did know him over a long period of time and there was nothing in his behaviour that would have given us cause for concern," he said.
"We are shocked and upset at the nature of the allegations and the apparent conviction of the police that they need to be taken seriously. We wouldn't quarrel with that."
Another hospital with a long connection to the presenter, Stoke Mandeville in Buckinghamshire, has also been contacted by the police as part of the investigation.
A former patient at the hospital has told the BBC she was abused by Savile in 1971 when she was 13.
'Feel cheated'
Caroline Moore, 53, from Clarkston near Glasgow, was in a wheelchair being treated for spinal injuries at the time.
She said: "I was outside a ward or a gym and he came out and just rammed his tongue down my throat... I was 13 and didn't know anything about that kind of thing.
"I told my family at the time but they didn't take it seriously because he was so high-profile. I tried to raise it a few years ago when a documentary was being made but they wouldn't entertain me either."
Ms Moore said she wished Savile was alive to face the allegations made against him.
"I feel cheated. After 40 years he still upsets me," she added.
A retired detective has told the BBC he reported concerns about Savile's behaviour at Stoke Mandeville in the 1970s but was not believed.
The former Thames Valley police officer, from Milton Keynes, said he was told by nurses that they tried to keep young girls away from Savile when he visited.
On Wednesday Buckinghamshire Healthcare NHS Trust, which runs the hospital, said it had been shocked to hear allegations and had never received any complaints about Savile.
Savile had been a regular visitor to the hospital, raising millions of pounds for its spinal injuries unit.
Roger Holt, a former music executive who worked with Savile's team in the late 1960s, said he was told that he "gets these young girls in his Rolls", adding "I think he had a caravan when he was travelling around".
'Vivid memories'
Mr Holt said: "I heard through his office, just in conversation, 'Jimmy's at it again' because he used to travel the country with his colleagues at the BBC."
The Metropolitan Police investigation, Operation Yewtree, aims to produce a report by the end of November.
The force said Savile's alleged victims were mainly girls who were aged between 13 and 16 at the time, and the allegations spanned four decades.
North Yorkshire Police has said it has received a report of a sexual offence by the presenter involving a girl in Scarborough in the 1980s.
A further two allegations against Savile have been received by Lancashire Police, one about a girl then aged 14 in the 1960s in West Yorkshire, and one about a 15-year-old girl in the 1980s in Bedfordshire.
All three allegations have been referred to the Metropolitan Police.
A solicitor representing 42 victims of child abuse in Jersey has said Savile was named "several times" in his investigations.
Alan Collins said the memories of Savile had been "very vivid" but said he believed he escaped attention on the island because he was just one part of "a wide ranging inquiry spanning decades and dealing with numerous alleged abusers".