West Yorkshire textile jobs rise bucks national trend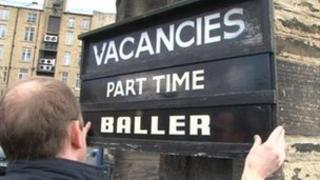 While many businesses have struggled for survival during the recession, the textile industry in West Yorkshire has experienced a surge.
Figures show that the number of jobs in textiles has risen by 25% over four years, from 10,780 in 2008 to 13,570 in 2011.
That compares to a 14% decline in such employment across the UK as a whole.
Bradford in particular has experienced the biggest growth.
Figures from the Business Register and Employment Survey 2011 show there has been a 46% rise in textile jobs in the city from 1,680 in 2008 to 2,460 in 2011.
Bradford's association with textile manufacturing is nothing new.
The city's history is bound up with the development of the industry, with its first mill at Leaventhorpe being mentioned in the will of the Earl of Lincoln in 1311.
It was during the 19th Century that powerful wool merchants transformed Bradford from a small market town into the then woollen capital of the world.
At its height, the wool industry accounted for more than 70,000 jobs in the city, one-in-three of all workers.
But Bradford's textiles industry decline began before the end of the 19th Century primarily due to competition from abroad and that decline has continued ever since.
Business demand
David Green, the city's council leader, said that despite the wider decline, there was now a growing demand for locally produced textiles which had accounted for the boost in employment.
"People are recognising the quality of goods produced in Bradford is so much higher than elsewhere," he said.
"We've seen a growth in locally home-produced textiles and the demand for it and Bradford has been actively pursuing that new market and has been successful at it."
Mr Green said the council was working with textile businesses, particularly smaller companies, to help them grow and bring more jobs.
Mark Hill, manager at Edward Hill and Company, a traditional textile mill catering for the hand knitting market, said his firm's success was partly due to more people knitting during the recession.
"In a recession, people tend to knit rather than go out."
He added: "We find that hand knitting yarn has a growth market in the recession and this is creating jobs in the Bradford area. We have probably seen a 15 to 20% rise in business growth."
Mr Hill said the company relied on more "old-fashioned" methods to recruit staff.
"We don't use agencies, we have an old-fashioned board outside the mill and insert the job title of the job we require and we just get people coming in off the streets who have the relevant skills.
"It's a pretty Victorian way of doing things but we find it works and it's cost-effective."