West Yorkshire metal theft raids lead to 28 arrests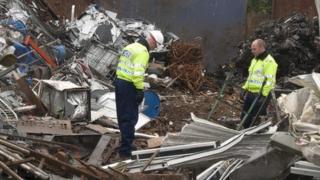 Twenty eight people have been arrested and £100,000 cash seized following a series of raids on 10 scrap metal dealers across West Yorkshire.
Police said large amounts of stolen metal had also been recovered in an operation that started on Monday.
The raids followed work by undercover officers.
Eight people have been charged with handling stolen metal and another eight have been released on bail. The rest remain in police custody.
Assistant Chief Constable Geoff Dodd, of West Yorkshire Police, said: "The majority of them [dealers] work with us to help stop the movement of stolen metal."
Mr Dodd said he was pleased with the results from the operation but said the force would continue to raid more scrapyards.
He also appealed to the public for more information.