Jimmy Savile sex abuse inquiry 'to focus on Leeds hospital'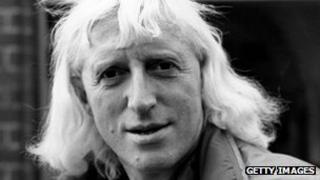 A Leeds hospital where Sir Jimmy Savile worked as a volunteer will be part of investigations into alleged sexual abuse by the DJ, police have confirmed.
Savile volunteered at Leeds General Infirmary (LGI) in the 1960s and 1970s, and continued his charity work there until his death in October 2011.
One former patient told the BBC she had seen Savile abuse a fellow female patient who was "incapacitated".
Leeds Teaching Hospitals Trust said it would help police if asked to do so.
'Long association'
The Metropolitan Police, which is handling the case, said it could not confirm the specific lines of inquiry it would be following up at the LGI.
A Leeds Teaching Hospitals Trust spokesman said it was "shocked" at the nature of the serious allegations being made against Savile.
It was concerned about those allegations in view of the star's "long association" with hospitals in the city.
"We did not have any complaints about Jimmy Savile's behaviour during the time he was a volunteer and charity supporter at Leeds General Infirmary or at any of our other hospitals," the spokesman said.
"Any evidence about alleged criminal acts should be referred to the police so they can look into them. Leeds Teaching Hospitals will, of course, assist the police in any investigation if we are asked to do so."
June Thornton, a patient at the LGI in the 1970s, told BBC Look North she had witnessed Savile come into her ward and abuse a female patient who was incapacitated.
"Jimmy Savile came in and kissed her. I thought at the time that he was a relative," she said.
"But then he started kissing her neck and running his hands up and down her arms, and then he started to molest her."
Mrs Thornton said she had been unable to intervene as she was too unwell at the time.
'Public opinion'
Earlier, a conference centre in Leeds named after Savile announced it was to be rebranded.
Royal Armouries International, which owns Saviles Hall at Clarence Dock, said it would be renamed "out of respect for public opinion".
It said further information about the move would be "issued in due course".
Saviles Hall, which can seat up to 1,000 people, was named after Savile in 2007 and played host to fund-raising auctions after his death.
The decision to rename it came hours after the headstone on Savile's grave was removed.
A footpath sign in Scarborough commemorating Savile has also been taken down by the borough council.
A plaque outside Savile's flat in Scarborough was removed last week after the words "rapist" and "paedophile" were written on it.
And Leeds City Council has taken Savile's name off an inscription on a wall commemorating high-profile citizens at the city's Civic Hall.