Leeds father Richard Smith killed wife and sons then self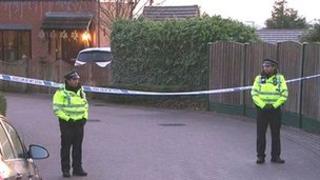 A father killed his wife and two sons before taking his own life, an inquest has concluded.
Richard Smith stabbed his wife Clair and strangled her with a scarf before stabbing nine-year-old Ben and one-year-old Aaron at their home in Pudsey, Leeds, last December.
He then placed the family on the bed and set fire to the mattress before lying down with them to die.
Leeds Coroner's Court heard Smith had been affected by the death of his son.
The family were found on the bed with the ashes of their baby son Jake, who had died four years earlier in December 2007.
Stabbed himself
The inquest heard Mrs Smith, 36, died from the stab wound to the chest and compression of the neck and Aaron died from a stab wound to the neck. Both were dead before the fire started.
Ben had been stabbed three times, in the chest, neck and arm, but the wounds were not fatal. He died from the effects of inhaling smoke and fire gases and suffocation.
Mr Smith, 37, a quantity estimator, died from the effects of smoke and fire gas inhalation but had also stabbed himself in the neck in an unsuccessful attempt to take his own life.
Det Supt Paul Taylor, of West Yorkshire Police, told the inquest: "Four years ago, almost to that day, they lost a baby Jake.
"The box containing baby Jake's ashes was found in the crook of Clair's arm."
'Immense aberration'
Coroner David Hinchliff said: "That's something that obviously deeply affected them."
Mr Hinchliff recorded verdicts of unlawful killing on Mrs Smith, Ben and Aaron and said Mr Smith took his own life.
He said: "It would appear Richard has undergone some aberration, some problem, affecting his mental health which caused him to take the action he has.
"It is my view that, having been the perpetrator of all that had happened and being faced with the enormity of whatever was preying on his mind at the time and causing an aberration of this immensity, he has taken his own life."