Hunslet New Cemetery war memorial vandalised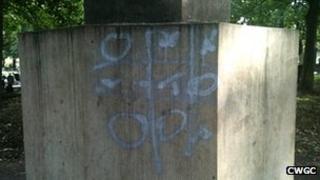 A war memorial in a West Yorkshire cemetery has been damaged by vandals who daubed it with noughts and crosses in heavy duty silver paint.
Specialist masons had been called in to clean the Cross of Sacrifice at Hunslet New Cemetery in Leeds, the Commonwealth War Graves Commission (CWGC) said.
Matt Morris, from the CWGC, said the attack was "sad and frustrating".
Leeds City Council, which owns the site, said it was making a "significant investment" in the cemetery's security.
'Very sad'
Once the Cross of Sacrifice was clean again, a special anti-graffiti coating would be applied to the memorial to make any graffiti easier to remove, said Mr Morris.
However, vandalism of war memorials was still rare, he said.
"Most people respect the work of the Commission in commemorating the sacrifice of the fallen from two world wars," said Mr Morris.
"But it is very sad when it does happen and it is frustrating for our works teams who have enough on their plates without dealing with graffiti."
It would cost about £400 to restore the Cross of Sacrifice to its proper condition, said Mr Morris.
A spokeswoman for Leeds City Council described the vandalism as "disgusting".
"While we do our best to keep our cemeteries secure, unfortunately we can't totally protect them from the mindless acts of individuals," she said.
The authority was spending £55,900 on new metal fencing at the cemetery and new barriers would also be installed around the Cross of Sacrifice, she added.