Mid Yorkshire Hospitals NHS staff to ballot over redundancies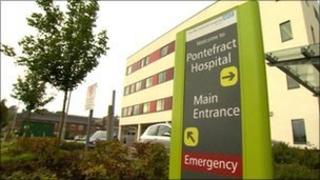 Staff at a hospital trust in West Yorkshire are being balloted for industrial action after 74 employees were sent redundancy letters.
The Mid Yorkshire Hospitals NHS Trust has to save £24m by April 2013 but will still end the year with a £26m deficit.
The trust, which runs hospitals in Wakefield, Dewsbury and Pontefract, said it had consulted with staff about reducing wage costs.
Union Unison said there was "no need for any compulsory redundancies".
It claimed the trust had received more than 250 applications for voluntary redundancy and early retirement.
Administrative and clerical staff, as well as medical secretaries and senior nurses and matrons, are facing compulsory redundancy, the trust confirmed.
Graham Briggs, director of human resources at the trust, said: "We will be actively working with affected colleagues and staff to avoid compulsory redundancies through measures such as voluntary redundancies and redeployment.
"However, to make the necessary savings, we do need to reduce our workforce costs and regretfully we cannot rule out having to make [compulsory] redundancies."
'Lowest paid staff'
Unison said 95% of members, which include administrative and nursing staff, had already voted in favour of taking strike action and 98% voted in favour of industrial action short of strike action, in a ballot last month.
Jim Bell, Unison regional organiser, said: "Our members are the lowest paid, predominantly female, workers in the organisation and there is enormous anger that they are being made to pay for the costs of vastly expensive private consultants and financial mismanagement.
"Members will now vote formally on what industrial action they need to take."
Earlier this year, staff were asked to reduce their working hours and take unpaid leave.
Mr Bell said: "We've co-operated on a number of their measures.
"The last thing our dedicated members want to do is to take strike action, and we will do everything to negotiate with the trust to avoid that outcome."