Flood warnings in place across West Yorkshire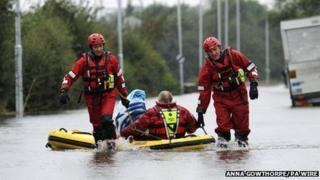 Three flood warnings remain in place in West Yorkshire after heavy rainfall.
The warnings, which mean flooding is expected, have been issued for the rivers Aire, Calder and Wharfe.
People living on the banks of the River Aire in Leeds said they were keeping a close eye on water levels.
Resident Oona McNee said: "Just over the road it's up to thigh deep, it's obviously very quick, it's quite scary."
One man said he was considering moving after his home was flooded for the second time in a year.
Roads closed
Mark Smith, from Allerton Bywater near Castleford, said his home was flooded with more than 2ft (0.6m) of water.
Mr Smith said he had just finished repairs after the property was inundated in June.
"We were just putting everything back to normal and we get hit again. We had a warning but there isn't much you can do," he said.
The cost of repairs three months ago were more than £40,000.
Mr Smith said: "It is disheartening and it is hard to look to the future in a property when we don't know how often this is going to happen."
Across England there are 77 flood warnings in place in the Midlands, North East and North West and 139 flood alerts.
Heavy downpours have resulted in homes being evacuated, disruption to train services and school closures while many roads have been closed as a result of flooding.
The Environment Agency said persistent rain combined with heavier bursts had led to rising river levels in West Yorkshire.
Yorkshire Water said it had mounted a "massive" operation working with other agencies to reduce the risk of flooding.
Matt Thompson, from the company, said: "Our key pumping stations are being closely monitored, and additional pumping capacity is in place at areas that we know are at a particularly high risk of flooding."
He added the company was contacting vulnerable customers and arranging for sandbags to be made available where appropriate.
The West Yorkshire Fire and Rescue service said it had responded to a number of incidents relating to flooding.