Olly Murs to perform with Clare Teal's big band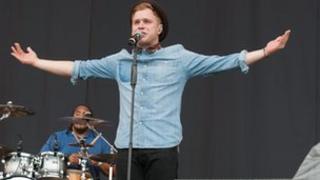 Singer Olly Murs will perform alongside a community big band in Leeds to raise money for Children in Need.
Eighteen musicians from all walks of life in West Yorkshire have been chosen to form the big band and play alongside jazz star Clare Teal at the city's town hall next month.
Teal, who was born in Kildwick near Keighley, will be reworking some of the former X-Factor contestant's hits into big band numbers.
Murs said: "I'm delighted, I can't wait. It's going to be an amazing gig and to be involved in Children in Need is always a pleasure."
Murs said he was a fan of the big band music style.
"I love it. Ever since I was a young kid my nan and granddad grew me up listening to the Rat Pack and the likes of Frank Sinatra and Sammy Davis Jnr, and to be involved in this is going to be amazing."
Yorkshire roots
Grammy-nominated jazz vocalist Gregory Porter will also be flying in from the United States to perform with Murs and Teal.
The big band's public performances at the town hall on 30 October will be recorded by BBC Radio Leeds and BBC Radio 2.
The 19 members of the band were chosen after auditions at the Leeds College of Music.
They are a mix of ages, backgrounds and experiences but all have some musical ability.
Teal, an acclaimed jazz singer, musician and BBC Radio 2 presenter, is returning to her Yorkshire roots to build the band.
Her challenge is to bring the musicians together to make a great sound in time for the performances.
The process is being followed by BBC Radio Leeds through to the live shows.
All band members will have to perform in a Children in Need concert at the 1,200-seat Leeds Town Hall on the evening of Tuesday 30 October and live on Children in Need night on Friday 16 November.
Tickets for the concert are one sale. They can be bought from Leeds Town Hall box office on 0113 2243801 or booked online via the Leeds Town Hall website.
Tickets cost £15 per person, £14 for concessions.
At least 20% of the sale of the tickets will be going to BBC Children in Need.