Action taken after Pinderfields Hospital failings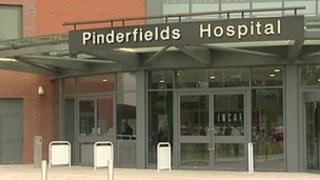 An "urgent legal restriction" has been placed on the use of a hospital day surgical unit after inspectors found "completely unacceptable" failings.
Inspectors said the unit at Pinderfields Hospital in Wakefield was being used for long-term care when there were not even washing facilities.
The Care Quality Commission (CQC) has ordered the hospital to restrict the length of patient stays.
The Mid Yorkshire Hospital Trust apologised to patients.
The CQC found patients on the unit did not have proper washing facilities and were cleaning themselves using disposable cardboard bowls.
Inspectors found there were no in-patient catering facilities on the unit and only sandwiches and microwave meals were available to patients.
The failings were uncovered following an unannounced visit to the hospital by the CQC on 5 September.
They discovered that between July and August "a number" of patients had been on the unit for more than 24 hours and in some cases for more than four days.
Malcolm Bower-Brown, deputy director of the CQC, said: "The failings we witnessed on this unit at Pinderfields Hospital were completely unacceptable."
The legal restriction on the trust prevents it from treating patients in the surgical unit for more than 23 hours.
The trust said it had already taken action to address some of the inspectors' concerns.
Stephen Eames, interim chief executive of the Mid Yorkshire Hospitals NHS Trust, said: "We would like to apologise to any patient whose experience on the day surgical unit may have fallen below the high standards we would expect.
"To our knowledge no patients have come to harm as a result of an in-patient stay on this unit.
"We do accept that the facilities and environment on this unit were not entirely suitable for in-patients and we are in the process of making significant improvements so it can be used for short stays."