Dean of Wakefield says VAT on listed buildings 'outrageous'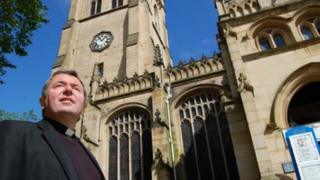 Changes to the government's tax regime to be introduced on Monday will make alterations to listed buildings more expensive for their owners.
The Treasury will charge VAT at 20% on approved alterations to listed buildings - work that is currently exempt from the tax.
The tax change applies to all listed buildings, including places of worship - a fact that has turned the Dean of Wakefield, the Very Reverend Jonathan Greener, from a softly-spoken man to someone who is "animated, exasperated and determined".
For the change comes just as Wakefield Cathedral undergoes a £3m building programme.
The coincidence has prompted Dean Greener to call George Osborne a "cultural philistine" and denounced his government's new tax rules as "damaging the heritage of the UK".
'Significant anomalies'
His wife, Pamela, has also described the imposition of the tax as indicative of a government that will go down down as the one "that sold out on Britain's heritage".
Mrs Greener has already publicly challenged the government by releasing a protest song on You Tube.
The couple has publicly expressed displeasure since March's budget and the dean said the government's plans are "outrageous".
A Treasury spokesperson explained that "significant anomalies" had developed in VAT had prompted the change, and the correction "would align the alterations of listed buildings with the existing VAT treatment of alterations to other buildings and repairs of all buildings".
The Church of England owns 45% of the Grade-1 listed buildings in the country and "the burden is huge, we don't buy cathedrals we've inherited the care of the building" according to Dean Greener.
Despite an official welcome from the Church of England, which is making an additional £30m a year available until September 2015 to assist, he is still scathing.
He said: "What you hope of a tax change is it will be considered, analysed and reasonably costed. None of that happened, now we have a bad tax law.
"We do not believe the project will not be subject to any extra VAT during this phase… but another phase is coming along."
Substantial work 'exempt'
Huddersfield builder Trish Nutall, who has run Jo Simon construction for six years, fears the increase in tax will be no help to preserving important buildings.
She said a zero rate should be placed on alterations to "help renovation of buildings at risk" otherwise such buildings could "languish."
The government said it has retained the zero rate for "substantial reconstructions" of protected buildings "from a shell".
According to Kirklees council, there are 2,819 listed buildings in Huddersfield, including 221 in the town centre alone, making it one of the highest concentrations in the country.
Mrs Nutall said people had often "been wary" of buying a listed building but the "incentive" of zero VAT on alterations helped buyers to purchase.
She was insistent not all owners of listed buildings were wealthy and the change would hit some hard.
"I don't think that any of the government comes from a construction background," she said.
"I don't think they understand the difficulties of people in a £120,000 listed cottage in Holmfirth where the owner might earn say £16,000 pa.
"We'll suffer. The cash-in-hand man-with-a-van will just carry on, they don't obey the rules anyway."