Bradford Odeon plans are sought to save city landmark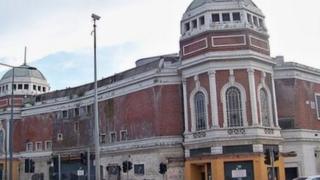 New ideas to regenerate Bradford's former Odeon cinema are being called for by the city's leaders after plans to demolish the building were scrapped.
David Green, leader of Bradford Council, said there was "a blank sheet of paper" for any new plans.
Langtree Artisan wanted to develop the site to create offices and apartments.
On Thursday the Homes and Communities Agency, which owns the building, said the developers had failed to comply with the terms of the development.
Mr Green also paid tribute to the campaigners who he said had kept the Odeon "standing for many years".
'Reprieve' for building
He added the council wanted to work with the building's owners, and individuals or groups that had a "viable" use for the building.
Mr Green said he would like to see "as much" as possible "if not all" of the building protected.
Mark Nicholson, of the Bradford Odeon Rescue Group, welcomed the "reprieve" for the building and said the recently abandoned scheme had received "very little public support".
Bradford deserved a "jewel in the city centre" for the building he added.
Mr Nicholson said he would like to see it restored to its original use, as a concert venue.
The building was opened in 1930 as the New Victoria, a cinema and theatre, and closed in 2000. Its landmark facade has been left virtually untouched.