Plans to redevelop Bradford's old cinema scrapped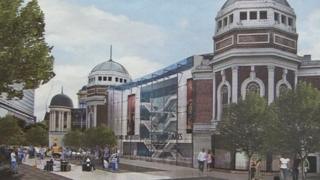 Plans to demolish Bradford's former Odeon Cinema have been scrapped after the building's owner terminated an agreement with the developers.
Langtree Artisan wanted to develop the site to create offices and apartments.
The Homes and Communities Agency, which owns the building, said the developers had failed to comply with the terms of the development.
A campaign had been under way to save the cinema, formerly known as the New Victoria, from demolition.
Mark Nicholson, from the Bradford Odeon Rescue Group, said: "This news is absolutely marvellous.
"The scheme to replace the Odeon wasn't wanted by the people of Bradford."
'Find solution'
Bradford MP George Galloway said: "The Alhambra next door and the Odeon are the centre of Bradford and the idea that one should be knocked down in order to provide yuppie flats when we don't have enough yuppies to sell the ones we've got is just a stupid idea."
The Homes and Communities Agency (HCA) inherited the cinema from Yorkshire Forward when it was abolished last year.
The agency said Langtree had wanted more time to market the scheme to potential occupants but that it was not prepared to consent as it would change the terms of the development agreement and "perpetuate the uncertainty" over the building's future.
David Curtis, HCA executive director, said: "We know the Bradford public has been frustrated at the uncertainty surrounding the building, and we've been frustrated too.
"When it was clear that the developer wasn't prepared to meet the obligation to commence with the New Victoria scheme we decided to terminate the agreement.
"We haven't taken the decision lightly and it won't be a simple task to resolve the building's future.
"But we are determined to secure a viable outcome for the site and we'll work with the council and local community to find a solution that meets their ambitions for the city centre."
The cinema was opened in 1930 and closed in 2000. Its landmark facade has been left virtually untouched.