Sharon Beshenivsky's widower wants armed police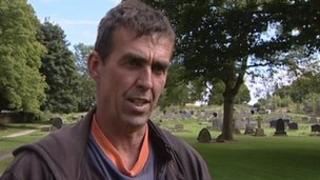 A widower whose police officer wife was shot dead by armed robbers has said police should be routinely armed.
Paul Beshenivsky, whose wife Sharon was killed on duty in Bradford, West Yorkshire in November 2005, said the deaths of two officers in Manchester had affected him.
The deaths of the officers had "sent a shiver down my spine".
And he said officers carrying guns would "get respect".
PC Sharon Beshenivsky was shot during a bungled robbery in Morley Street, Bradford, on 18 November 2005.
Two men were jailed for life for her murder.
She had been responding to an armed robbery with fellow PC Teresa Milburn.
PC Beshenivsky had been a police officer for just nine months and became the first female officer in 20 years to be shot dead by a criminal in England and Wales.
'Sickens me'
Now her widower, Paul, said the deaths of two officers in Manchester had prompted him to speak.
He said: "I think they should carry guns because it would give them a a bit more respect.
"If you look abroad, all officers abroad carry guns, and I think that the times we are in now I think they would feel safer carrying guns."
Mr Beshenivsky said that if some officers said they did not want to carry firearms, "that is their opinion but personally I think they should, I'd have thought they were safer carrying them.
"The news of the Manchester shootings sent a shiver down my back, thinking about the officers and their families and you know, it's what I've gone through over the years.
"It saddens and sickens me, seven years down the road and this just brings it back, like it was yesterday.
"It's a bit easier for me seven years down the road, but it doesn't make it any easier for those (families) it has happened to."
He added: "Officers have a very difficult job, whatever situation they walk in to they don't know what they're going to have to deal with - this happening now would make officers think about knocking on a door and what may be on the other side of it."