Peeping Tom who ogled Games swimmers spared jail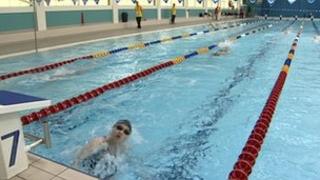 A voyeur who tried to spy on the Chinese Olympic swimming team in a women's changing room has been banned from female changing rooms and toilets.
Declan Crosbie, 25, from Lea Farm Place, Leeds, was caught peering over cubicles as team members were getting changed at a Leeds sports centre.
He was also given a three-year community order as well as the five-year ban at Leeds Crown Court.
The judge said he would go on a sex offender treatment programme.
The court heard a woman saw Crosbie entering the changing room at Leeds University's The Edge training facility.
When staff went to find Crosbie, he hid in a cubicle and tried to answer them in a feminine voice.
Trousers down
He then came out and begged staff not to call the police before running away.
He later handed himself in to police and pleaded guilty last month to trespass with intent to commit a sexual offence.
He was previously jailed for three years in 2009 after trespassing in a private home and being found standing over a sleeping student, whose trousers had been pulled down.
Crosbie also has convictions for voyeurism from 2005 and 2006.
The Recorder of Leeds, Judge Peter Collier QC, said the 2009 jail sentence was passed in the hope Crosbie would be sent on a treatment course but it never happened.
He said the community order would guarantee he would attend the course.
The judge said: "I'm satisfied it is in the public interest and long-term interest of better protection of the public that I make a community order in your case."
The court was told Crosbie was already on the sex offenders register.