Sewer work in Bradford Moor to reduce flood risk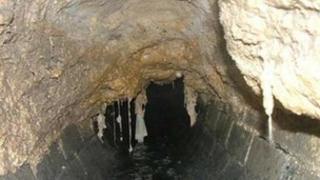 Improvements are to be made to the sewerage network in a part of Bradford where flooding has been a problem.
Yorkshire Water said over the last five years there had been a significant number of cases where sewage had flooded buildings in Bradford Moor.
CCTV cameras are to be inserted into the public sewers and any necessary remedial work carried out.
The water company said work would also involve accessing privately-owned pipes and access to people's land.
Lee Laherty from Yorkshire Water said: "Although our work will play a huge part in finding solutions we still need residents in the area to look after their own sewer pipes as one of the problems causing blockages is people mistakenly disposing of items incorrectly down their sinks and toilets.
"Items like fats, oil, grease, baby wipes and make-up wipes build up over time in the sewers, solidifying and preventing waste water from escaping down its normal journey in the sewer meaning they may come back up through toilets and sinks causing flooding to people's homes."