Wakefield Prison nurse 'wrote love letter to rapist'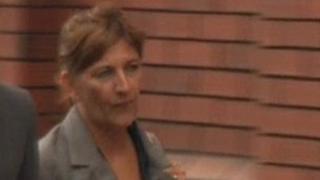 A prison nurse wrote a love letter to a convicted rapist, telling him "you are my knight in shining armour", a jury has been told.
Karen Cosford, 47, is accused of having sex with inmate Brian McBride at Wakefield Prison in West Yorkshire.
Leeds Crown Court heard the letter was found in a bag of sugar during a search of the prison medical centre.
Mrs Cosford, of Normanton, denies misconduct. She claims McBride raped her and bribed her not to report it.
Richard Wright, prosecuting, told the jury the letter said: "You are my world, now and in the future together. Through good and bad times and, hopefully, more good times than bad.
"You understand me more than anyone. We can have a wonderful future together. Everything we talked about will happen but just give it time."
'Love you dearly'
The letter also referred to McBride being the "most understanding, patient, manly, kind" man she knew.
It finished: "I'm committed to this 100%, don't ever forget that. I love you dearly with all my heart."
Mr Wright said the letter ended with kisses but no signature.
The court has already heard Mrs Cosford's alleged relationship with McBride was exposed when his cell was searched and he told her husband Darrie, a prison officer, he had been having an affair with his wife.
Following the discovery of the letter, Mrs Cosford rang in to work sick, then claimed she was raped, the jury was told.
Mobile phone
McBride worked as a cleaner at the medical centre, where he was also an in-patient.
Mrs Cosford is charged with having a sexual relationship with a prisoner, failing to tell authorities he had a mobile phone and supplying McBride with mobile top-up vouchers.
She denies all charges.
Three of her medical centre colleagues also face various misconduct charges.
Carolyn Falloon, 50, of Wakefield, and Jacqueline Flynn, 46, from Pontefract, deny charges of failing to report the relationship and not reporting McBride's mobile phone.
Mrs Falloon also denies supplying McBride with mobile top-ups and David Sunderland, 49, of Wakefield, denies not reporting McBride's mobile phone.
The trial continues.