Bradford City Park 'boosts economy by £1.3m' in six months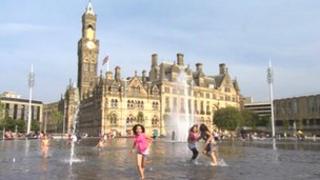 A £24m park in Bradford city centre has generated over £1m in new trade for the city since it opened in March, the council has said.
Visitors have spent an extra £1.3m in Bradford in the six months since City Park opened, figures compiled independently for the authority show.
About 220,000 people visited, between March and the start of September, the study indicated.
Businesses near the park say they have seen an upturn in trade since March.
The figures were compiled for Bradford City Council by independent economic consultants Ekosgen.
'Vibrant space'
Bradford's Kirkgate shopping centre reported "a significant increase in footfall" since the opening of the City Park, the council said.
And one business close to the park, the Dragon Thai restaurant, said trade was up by about 40% since it opened.
Susan Hinchcliffe, Bradford Council's portfolio holder for employment, skills and culture, said the statistics gave investors a good reason to come to the city.
"It's a catalyst for change and a key part of our regeneration," she said.
"It's a really vibrant space now and that's reflected in the figures."
The City Park is a scaled down version of one proposed as part of a masterplan for Bradford city centre in 2003.
It features a 3,600 sq m (43,060 sq ft) mirror pool and 100 fountains.
The original scheme involved building a lake around the Victorian Grade I listed City Hall.
It was funded by Bradford council, the now abolished regional development agency Yorkshire Forward and the Regional Transport Board.