Hannah Cockroft gets second gold stamp and postbox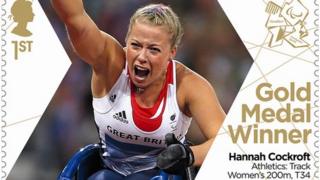 The success of Paralympic gold medallist Hannah Cockroft will be celebrated with a second Royal Mail gold stamp and another painted postbox.
The 20-year-old, from Halifax, won her second gold medal in the women's T34 200m wheelchair sprint on Thursday.
Royal Mail said the stamp would be available from Saturday.
A postbox in Cockroft's hometown was painted gold after she won GB's first gold medal of the Paralympic track and field competition last Friday.
A gold stamp was also issued to mark her victory.
Royal Mail said the location of the second postbox was yet to be decided.
Cockroft said: "I've already had a little parcel with my gold stamps on it. It's dead cool.
"But it just hasn't sunk in yet because I haven't been there [to Halifax] to see the postbox."