Wakefield Prison nurse 'had sex with rapist'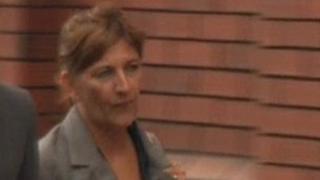 A prison nurse had sex with a convicted rapist at a top security jail, a court has been told.
Karen Cosford exchanged intimate text messages on a smuggled mobile phone during her relationship with lifer Brian McBride, Leeds Crown Court heard.
Mrs Cosford, 47, of Normanton, who worked at Wakefield Prison, denies misconduct, claiming McBride raped her and then bribed her to not report it.
The prosecution said the married prison worker's actions compromised security.
Mrs Cosford is charged along with three other medical centre colleagues at Wakefield Prison with misconduct in a public office.
'Box of chocolates'
Richard Wright, prosecuting, told the court Mrs Cosford performed a sex act on McBride as two colleagues, Carolyn Falloon and Jacqueline Flynn, guarded his cell.
Ms Falloon had previously caught the pair having sex in the medical unit but failed to report it, the court was told.
After supplying mobile phone top-ups to McBride, she texted him telling him he was "dead sexy" and that she loved him, the prosecution claimed.
The court heard that in one of the messages she thanked him for a "lovely box of chocolates" and, in another, told him he was "always in her heart".
The alleged relationship was exposed when McBride's cell was searched and he told Mrs Cosford's husband Darrie, a prison officer, he had been having an affair with his wife.
During the search of McBride's cell, a phone charger was found along with pictures of Mrs Cosford, a list of phone numbers, including some of prison staff, and a love letter in a jar of sugar.
Following the discovery, Mrs Cosford rang in sick to work, and then claimed she was raped, the jury was told.
'You're my world'
Mr Wright said "she acted as she did as she had become emotionally involved".
He said numerous text messages were recovered by investigators.
In one, Mrs Cosford told him: "You're my world," "Will ring you when I get chance" and "Loving you, babe".
Mr Wright said McBride worked as a cleaner at the medical centre, where he was also an in-patient, when the relationship began.
The court was told he was an "accomplished liar and fantasist" who told prison staff he was extremely wealthy with links to the criminal underworld and promised to give Mrs Cosford large sums of cash.
Mr Wright said: "Throughout 2008 and 2009 the prosecution contend that roles and inappropriate relationships turned on their heads as staff were drawn into utterly inappropriate relationships with Brian McBride which undermined the integrity, security and safety of the prison."
Mrs Cosford is charged with having a sexual relationship with a prisoner, failing to tell authorities he had a mobile phone and supplying McBride with mobile phone top-up vouchers. She denies all charges.
Ms Falloon, 50, of Wakefield, and Ms Flynn, 46, from Pontefract, deny charges of failing to report the relationship and not reporting that McBride had a mobile phone.
Ms Falloon and David Sunderland, 49, of Wakefield, also deny supplying McBride with mobile phone top-ups.
The trial continues.