Flood-hit West Yorkshire pub turns to community for help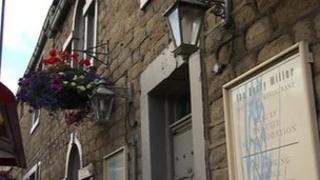 Owners of a West Yorkshire pub that closed after being flooded are hoping residents will help save it.
The 220-year-old Dusty Miller pub was forced to close after more than 40mm of rain fell in three hours in July in Mytholmroyd.
Because of the damage, the entire pub building has been put up for sale by the owners.
The tenant landlords hope residents will raise £300,000 to buy the business in return for a share of the profits.
Landlady Anne Downie said the closure of the pub had "blown my heart apart".
"I can't describe how I felt," she said. "We had a beautiful pub, it was very popular. We had great plans for it once the refurb had all been done and it just tore my heart."
Local businessman Andrew Halewood, who is helping with the project, said he wanted to "return the pub back to the community while offering a sound investment" to villagers.
The initiative has received backing from Calderdale Council.
Jae Campbell, community co-ordinator at Calderdale Council, said: "The Dusty Miller is a viable pub. It's part of the history of the village and it's part of the future as well."