Baroness Warsi: The rise and fall of a pioneer politician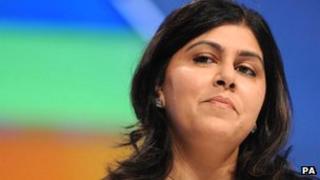 Baroness Sayeeda Warsi, who has lost her job as Conservative Party co-chairman as part of David Cameron's cabinet reshuffle, has come a long way from her hometown roots in Dewsbury.
It was there in 2005 that she stood for election and lost.
At the time it would have been unimaginable that five years later, despite never taking part in another parliamentary election, she would have a seat in the cabinet.
The young articulate solicitor, daughter of a successful businessman who came to Yorkshire from Pakistan as a mill worker in the 1960s, was exactly what the next generation of Conservative Party leaders needed.
David Cameron fast-tracked her to the position of shadow minister for community cohesion by making her a life peer in 2007.
Immensely proud
After the 2010 general election she made history by becoming the first Muslim woman in the cabinet as co-chair of the Conservative party.
She has always been immensely proud of her background and turned up for her first cabinet meeting in traditional dress.
Her mission was to explain her party's policies and she rapidly became one of the familiar faces and voices on political programmes.
As an unapologetic follower of the economic and social policies of David Cameron and George Osborne she took the critics head on.
Right from the start there was always a concern that despite her personable yet hard-hitting style she lacked the political experience to avoid the pitfalls of the job.
Embarrassing interviews
The first came a few months after the election when she claimed the Conservatives had been robbed of an outright majority because of "electoral fraud" in half a dozen constituencies.
Numerous embarrassing interviews followed where she failed to name names or provide any evidence.
The spring of 2012 saw two separate investigations into her conduct.
She was cleared of alleged expenses irregularities but was forced to apologise for a technical breach of the ministerial code by failing to declare a business relationship.
As soon as David Cameron's first reshuffle was announced her name was in the frame.
In fact she revealed her fate before the official announcement was made.
In the early hours of the day of the reshuffle she tweeted that she was "signing off as @PartyChair and signing on as @SayeedaWarsi".
I understand that she was offered a cabinet position without a ministry and turned it down, worried that it would appear as tokenism.
Instead she requested what she considered a real job at whatever its ministerial level.
After the top table posts were announced it was revealed that she would take up a post as Minister of State at the Foreign Office and Minister for Faith and Communities. She will attend cabinet, but not be a member of it.