Pontefract A&E department reopens overnight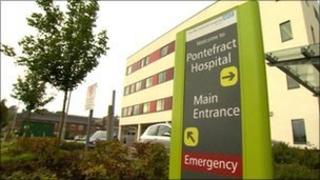 Pontefract Hospital's A&E unit will reopen overnight from Monday, a health trust has confirmed.
Mid Yorkshire Hospitals Trust said it had signed a deal with an external provider to supply GPs to allow it to reopen.
Since November last year, the emergency unit has only been open between 08:00 and 22:00 each day.
Now the department will be staffed from 22:00 until 08:00 for an initial 12 month period.
In October 2011 the trust's board decided to temporarily close the A&E unit because of a shortage of emergency doctors.
At the time a proposal to bring in Army medics to cover the shortage was ruled out by the trust following criticism of the plan from patients and MPs.
The chief executive and chairman of the trust resigned following the initial announcement to close the A&E department.
Dr Richard Jenkins, the trust's interim medical director said: "We made a commitment to reopen the emergency department at Pontefract and we are delighted to say that we have made good on that commitment.
"The team of GPs will work with our emergency medicine nursing staff and an on-site anaesthetist to assess and treat anyone who attends.
"However, if those people are critically ill or need to be admitted they will be transferred to Pinderfields Hospital as was the prior arrangement."
Shadow Home Secretary and Pontefract Labour MP Yvette Cooper said the reopening of the A&E unit was "a tribute to people power".
However, she said she was "still concerned" about its future and urged local residents to continue campaigning for the hospital's long-term future.