Alistair Brownlee golden postbox vandalised in Leeds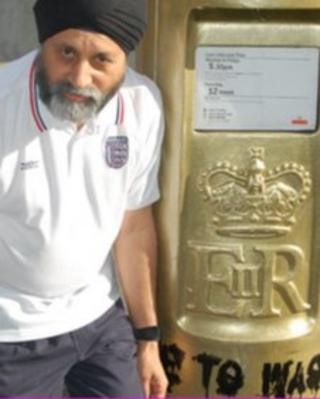 A golden postbox in Leeds to mark Alistair Brownlee's win in the Olympic triathlon has been repainted after it was vandalised.
Sub postmaster Sardarah Singh discovered words daubed in black paint on the postbox in New Road Side in Horsforth on Monday.
The words appeared to read "Time to Waste" or "Gone to Waste".
Alistair, 24, came first in the event, while his brother Jonny, 23, took the bronze medal.
Mr Singh said it had spoiled something which people had come from miles to see.
"People are coming from all over Yorkshire to see the postbox, they have been really enjoying it," he said.
Royal Mail spokeswoman Morag Turnbull said: "We are extremely disappointed that someone has chosen to vandalise the gold postbox painted to recognise the gold medal-winning achievement of Alistair Brownlee."
In a similar incident, the words "Go Jess" were scrawled on a golden postbox in Sheffield dedicated to heptathlete Jessica Ennis.