Hebden Bridge youngster's buzz from beekeeping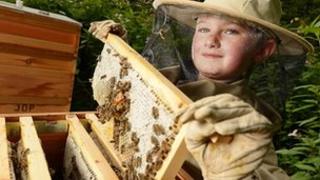 A seven-year-old boy from West Yorkshire is thought to be one of the youngest beekeepers in the country after successfully passing his British Beekeepers' Association Junior Certificate.
Jack Daniel Anderson-Martin, from Hebden Bridge, has been keeping bees since he was five and says he has not been stung once - despite caring for thousands of the insects.
The British Beekeepers' Association (BBKA) said the youngster's assessment success was impressive.
His knowledge of beekeeping is so extensive he has also outsmarted his father, Patrick, who was persuaded to take up the hobby.
His father Patrick said: "He was going through a bug phase but we did not have any bees at the time.
"A family friend who had been beekeeping for 40 years introduced him to it. He got his first hive aged five. A year later we got two.
"Now we have 10. In the height of summer there are up to 50,000 bees per hive so he has 500,000 charges.
"He takes it very matter-of-fact and does not think it is anything special. He has absolutely no fear of bees.
"The strange thing is, he has never been stung whereas most beekeepers do get stung and I am stung every time I go up to the hives.
"They say if you are rushing and have a certain smell of stress or urgency you will be targeted."
During the summer months the youngster is out every week tending to his hives at his home at Croft Mill, Hebden Bridge.
Now he has branched out from urban beekeeping to extra hives hidden away in woods.
He was seven when he started a course in 2012 for the Basic Assessment, which is the first adult basic beekeeping exam where the average age for those taking part was mid-40s.
A month ago father and son travelled to Barnsley in South Yorkshire to take their practical examinations with Jack - who is known to his family as JD - being tested in the junior category.
His father added: "When JD hopped out the car the assessor was amazed at his age. She expected a teenager."
"He answered all the questions and passed. I was assessed the same day (for the Basic Assessment - the adult exam) but made a few mistakes. They have not come across anyone of his age before.
"In summer, he spends hours a day working on his hives, marking queens, and going out on 'swarm patrol' with me in response to calls from anywhere within seven miles from Hebden Bridge".
The BBKA says it does not record the ages of its junior members.
But no records have come to light yet which would challenge the belief that JD is the country's youngest beekeeper.
Gill Maclean, spokeswoman for BBKA, said: "We are delighted that JD has taken up this fascinating hobby."
The BBKA Junior Certificate in beekeeping is the first exam you can take.
"JD can now go on to study for his Basic Assessment which is the first step on the ladder to becoming a master beekeeper and we wish him every success."