Leeds voyeur spied on Chinese Olympic swimmers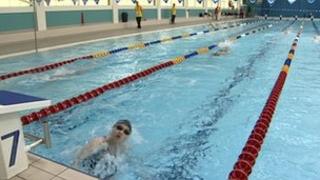 A voyeur has pleaded guilty to attempting to spy on the Chinese Olympic swimming team in a women's changing room.
Declan Crosbie, from Lea Farm Place, Leeds was caught peering over cubicles as members of the team were getting changed at a Leeds sports centre.
When staff went to find the 25-year-old, he hid in a cubicle and tried to answer them in a female-like voice.
He then came out and begged staff not to call the police before running away.
Crosbie will be sentenced on 17 September after being assessed for a sex offenders' programme, a judge said.
A woman saw Crosbie entering the changing room at Leeds University's The Edge training facility, Leeds Crown Court heard.
'Olympic offence'
Members of the Chinese team, who were training at a pool ahead of the London 2012 Olympics, also made a complaint after spotting him looking over the top of cubicles while they were changing.
Crosbie later handed himself in to police and pleaded guilty in July to trespass with intent to commit a sexual offence.
He was previously jailed for three years in 2009 after trespassing in a private home and being found standing over a sleeping student, whose trousers had been pulled down.
Crosbie also has convictions for voyeurism from 2005 and 2006.
The Recorder of Leeds, Judge Peter Collier QC, queried if the case should be fast-tracked under Olympic rules, but was told Crosbie had not specifically targeted the Chinese team members.
He said: "This offence is technically an Olympic offence because the victims were members of the Chinese swimming team who were training at facilities here in Leeds."
He told Crosbie he needed to be assessed in a bail hostel for 28 days before sentence could be passed.