Casey Kearney killer jailed for life for Doncaster park murder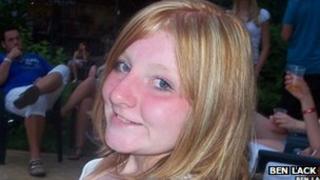 A woman with a history of mental health problems who stabbed a teenager to death in South Yorkshire has been jailed for life.
Hannah Bonser, 26, randomly attacked Casey Kearney, 13, as she walked through Elmfield Park in Doncaster on Valentine's Day.
Bonser, of Cusworth House, Doncaster, was convicted of murder at a trial at Sheffield Crown Court.
A judge said she would serve a minimum of 22 years.
The defence had urged the jury to find her guilty of manslaughter due to diminished responsibility.
The jury announced its verdict after less than three hours of deliberations.
Speaking outside the court, Casey's father Anthony Kearney said: "There was never a doubt in our minds this was a calculated and deliberate act and therefore deserves the maximum sentence our judicial system allows.
"However, no sentence will bring Casey back to us and the severity of Bonser's actions mean we will never have the privilege of her in our lives again."
NHS investigation
Det Supt Terry Mann, of South Yorkshire Police, said: "This is a sad case.
"It's a terrible, unprovoked and random attack on an innocent young girl, robbing her and her loving family of many future years."
The trial heard Bonser stabbed Casey once in the stomach as the teenager headed for a sleepover at a friend's home.
Bonser's legal team claimed she had paranoid schizophrenia which contributed to her diminished responsibility at the time of the stabbing.
The prosecution said Bonser was suffering from a personality disorder which did not "substantially impair" her ability to understand what she was doing.
Following the verdict, NHS Doncaster said it had commissioned a "detailed independent investigation" into the care given to Bonser.
In a statement, it said: "Such reviews are a statutory Department of Health requirement when investigating deaths involving mental health service patients.
"We expect the investigation to be completed by the end of this summer and a public report will be published afterwards.
"Before the report is published we will share it with Casey's family first."