Flood warning after showers in Mytholmroyd and Hebden Bridge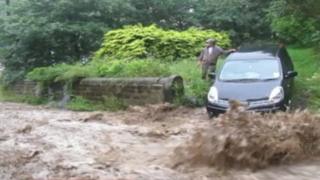 The Environment Agency (EA) has warned people in part of West Yorkshire to be prepared for further flooding.
On Monday a sudden downpour overwhelmed the drainage system in Todmorden, Hebden Bridge and Mytholmroyd for the second time in less than three weeks.
The EA said there were heavy showers in the area and it expected further surface water flooding.
Nearly a month's worth of rain, more than 40mm, fell in Hebden Bridge and Mytholmroyd in three hours on Monday.
The Highways Agency removed 25 wagon loads of rubble, estimated to be 500 tonnes, from roads in Hebden Bridge.
Tyrone Taft, from Moyles Restaurant, said he would be out of business for weeks.
He said: "The same thing happened about two weeks ago and it came down severely and at the moment my cellar is about 6ft under water.
"It's just basically starting from scratch again."
Central Street Infant and Nursery School in Hebden Bridge is partially closed due to flooding and is open to years one and two pupils only.
More than 500 homes and businesses in Hebden Bridge, Todmorden and Mytholmroyd were flooded on 22 June.
On Friday Prince Charles visited areas affected by water damage, on a day that also saw heavy rain and flash flooding hit parts of the county.