Ex-soldier Aaron Wilkinson jailed for landlady killing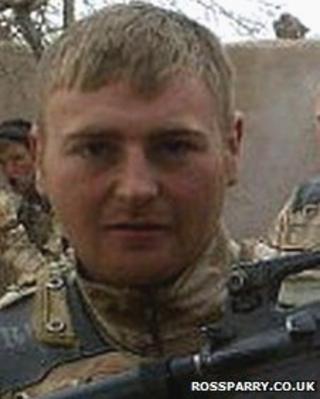 A former soldier who was suffering from post-traumatic stress disorder when he shot and killed his landlady has been jailed indefinitely.
Aaron Wilkinson, 24, killed 52-year-old Judith Garnett at her home on Alma Street, Woodlesford, Leeds.
He admitted manslaughter on the grounds of diminished responsibility. He was cleared of murder in April.
Wilkinson was given an indeterminate sentence at Bradford Crown Court. He will serve a minimum of five years.
He will not be released until he no longer poses a threat to public safety.
Taliban battle
Following the sentencing, Mrs Garnett's family said they were appalled at the length of the minimum tariff.
Her brother, Chris Higgins, said: "It has flattened the family and we are going to appeal against it."
At the time of the killing in January 2011, Wilkinson was suffering from post-traumatic stress disorder after a tour of Afghanistan during which he witnessed three Afghan soldiers being blown up by an improvised explosive device.
He also suffered a shrapnel wound during an intense two-day battle with the Taliban.
The court heard Wilkinson had also been diagnosed with Asperger's syndrome, or a similar condition, since his return from war in 2009 and the jury accepted that a combination of his two illnesses had left him unable to fully exercise self-control at the time of the attack.
Killing 'horrific'
But the judge, Justice Kenneth Parker, rejected the idea that he could not exercise any at all as Wilkinson loaded a third cartridge into the shotgun and shot Mrs Garnett in the head, having already shot her twice.
The judge told Wilkinson: "After you had fired the first two shots either instinctively as you say, or with some calculation I think, you then calmly loaded a third cartridge and that is a moment where you could have made greater efforts to restrain yourself.
"You made death certain and you made the killing that much more horrific."
The court heard that Wilkinson had known Mrs Garnett since he was 13. He worked on her game farm and she acted as a mother figure to him.
The judge said: "She was the one person who had showed you kindness, generosity and even maternal affection."