Leeds's 30-year wait for green transport scheme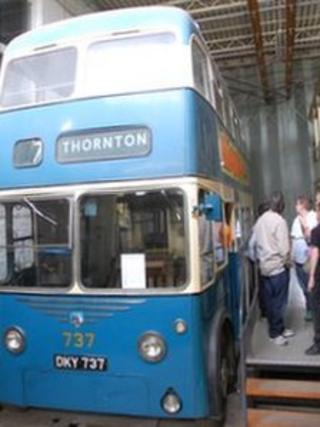 More than five years after they were first announced, plans for the UK's first modern trolleybus system have been given the go-ahead by the government.
Costing £250m, the New Generation Transport (NGT) network will link park-and-ride sites at the north and south edge of Leeds with the city centre.
The announcement comes 101 years after Leeds and Bradford simultaneously opened Britain's first trolleybus service, and 40 years after the UK's last trolleybus - in Bradford - was consigned to the scrapyard of history.
Councillor Richard Lewis, the city council's executive member for development and the economy, said the approval "will finally enable us to deliver a high-quality rapid transit network that is essential for a city of Leeds's calibre".
He added: "It will mean that Leeds becomes the first city in the UK to join the growing number of cities across Europe adopting this technology which is vital for our future economic growth and for the needs of our growing population."
Supertram scrapped
The announcement has been broadly welcomed, but the Leeds Civic Trust said it did have some concerns about the impact on the city during construction.
Director Kevin Grady said: "There are adverse impacts and it's a balance, but we as a trust will be looking carefully at the proposals yet again so that the detrimental effects on this particular route will be minimised."
Trolleybuses disappeared from Britain's streets as vehicles with diesel engines replaced them as a cheaper and more flexible alternative.
But in the 1980s, faced with growing traffic levels, transport bosses in Leeds started to look to history for a green solution.
Metro - West Yorkshire's public transport provider - originally developed plans to rebuild Leeds's tram system, which closed in 1959.
In 2005, when £40m had been spent on initial work for the Leeds 'supertram' network, the project was scrapped by the then Labour government.
By that stage an initial estimate of half a billion pounds had doubled.
The idea was replaced in 2007 by a £300m trolleybus scheme, which was later approved with a scaled down budget of £250m.
Public inquiry
However it was delayed when it became one of the first schemes to be reviewed as part of the incoming coalition government's austerity programme.
The bid has been bouncing between Leeds and Whitehall ever since.
Finally approving the scheme on Thursday, the Transport Secretary Justine Greening said she expected it to create 4,000 jobs and boost the local economy.
Councillor James Lewis, Metro's chairman, said: "It's no exaggeration to say a modern transport scheme for Leeds is something the council has been pursing since the 1980s."
He added: "NGT will speed up our recovery from recession, boost our economy and enhance our ability to compete on the national and international stage."
However it will be at least another six years before trolleybuses hit the streets of Leeds - a public inquiry will be held next year and if everything goes according to plan work will start in 2016, with the network becoming operational in 2018.