Casey Kearney killer 'told pagan priestess of demon attack'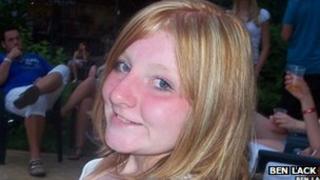 A woman who stabbed a 13-year-old to death in a Doncaster park said she was being "demonically attacked", a "pagan priestess" has told a court.
Hannah Bonser, 26, is accused of murdering Casey Kearney in Elmfield Park in February.
Sheffield Crown Court heard Ms Bonser had told the owner of a pagan bookshop that she had gone to London from Doncaster to escape demons.
Ms Bonser of Cusworth House, Doncaster, denies murder but admits killing Casey.
Dr Christina Oakley-Harrington told the court how Ms Bonser had turned up at her pagan and spiritualist bookshop in central London in September 2011.
'Exorcise' plea
Dr Oakley-Harrington, who told the court she was a pagan priestess, said the defendant "looked absolutely dreadful" and was "someone who was in terrible distress".
She said Ms Bonser "was scared out of her wits by something".
The bookshop owner told the jury: "She said that they were after her, they were going to kill her.
"She was trying to find someone who could exorcise her.
"She thought she was being demonically attacked by an international, invisible conspiracy.
"It was possibly the Catholics, possibly the Mormons. Later in conversation on the next day she said it might be the Illuminati.
"The whole of Doncaster was filled with demons that were attacking her - part of this international conspiracy which was why she could never go back to Doncaster."
The former university lecturer described how she was extremely worried about Ms Bonser and took her to a homeless shelter and Charing Cross police station, but was turned away by both.
She said she let the defendant sleep in the shop until she convinced social workers to attend.
Dr Oakley-Harrington said she accompanied her to a nearby hospital where she was sectioned.
She said she did not know the defendant until she turned up at her shop.
At the opening of the defence case, David Fish QC told the jury Ms Bonser will not be giving evidence.
The trial continues.