Minister Richard Benyon visits Calderdale flood areas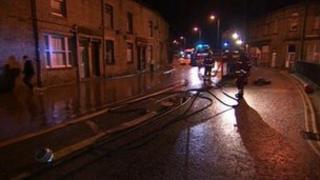 The floods minister has said the government is committed to doing all it can to help the people affected by flooding in West Yorkshire.
Richard Benyon spoke during a visit to parts of Calderdale that were flooded after a month's rain fell in 24 hours on Friday.
More than 500 homes and businesses in Todmorden, Hebden Bridge and Mytholmroyd were affected.
The minister said he had wanted to see what lessons might be learnt.
Mr Benyon said: "I know what this means to people, I have waded through people's homes and seen the impact of flooding. It is appalling.
"We want to make sure the recovery happens as quickly as possible and that the government plays its part."
Mr Benyon said flood defences remained an "absolute" priority despite budget cuts, but such heavy rainfall meant flooding was unavoidable.
"The information I have had is that when you have a month's rain in 24 hours it doesn't matter what you spend on defences I am afraid some properties are going to get flooded," he said.
The leader of Labour-run Calderdale Council has already announced a review of the emergency response to the flooding.
The Community Foundation, a national charity, has established an emergency fund for flood relief in the area.