George Galloway MP: Bradford is a 'national emergency'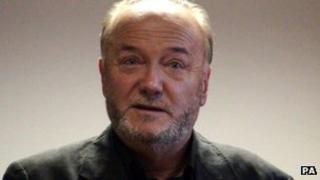 George Galloway, the Respect MP for Bradford West, has called the city a "national emergency".
Mr Galloway, speaking on BBC Radio Leeds, said Bradford was "becoming a black hole in the map of Yorkshire".
Respect has its party conference on Saturday in Bradford where the party also has five council seats.
Councillor David Green, the Labour leader of Bradford Council said Mr Galloway was demonstrating his "grasp of rhetoric over reality".
Mr Galloway said his constituency had the "fastest growing unemployment in the entire country" and the "Thomas Cook affair" had compounded the situation.
His comments follow the recent announcement that travel agent Thomas Cook would close an administration centre in the city in March 2013 with the loss of 537 roles.
Mr Galloway said nearby Leeds was "booming" but Bradford was "sinking".
'A time bomb'
He declared that by 2020 Bradford's population would mean it was the "youngest city in the whole of Europe".
"What should be a blessing is going to be a time bomb," he added.
Mr Galloway said as a "single MP" he could do nothing "except talk and demand".
Mr Green said if that is "all" Mr Galloway could do "it calls into question his role as an MP".
He called on Mr Galloway to take up an invitation to meet him or the chief executive of the council and said the city's other MPs were working with the council to lobby the government.
He said the council recognised the city's problems and was taking "practical and urgent steps to address them".
On Thursday the city council said nearly £8m of money to tackle unemployment in Bradford could help Thomas Cook staff facing redundancy.
The funding has come from council reserves.