Dalai Lama dismisses China's Leeds Olympic threat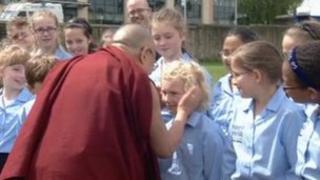 The Dalai Lama has dismissed as "almost routine" a threat by China to pull its Olympics team out of a training camp in Leeds because of his visit to the city.
The Tibetan spiritual leader's comments came before he addressed the Yorkshire International Business Convention.
It is thought Chinese officials asked Leeds City Council to put pressure on the organisers to cancel his visit.
The 76-year-old Dalai Lama said on Friday: "That is always happening, that is almost like routine."
Although the council distanced itself from the business convention, it said it was aware of "sensitivities" around the event at which the Dalai Lama will discuss business ethics.
'Living god'
Chinese Olympic officials selected Leeds as the country's training base last August.
Tibet is governed as an autonomous region of China and Beijing claims a centuries-old sovereignty over the Himalayan region.
But the allegiances of many Tibetans lie with the Dalai Lama, seen by his followers as a living god, but by China as a separatist threat.
The BBC's China correspondent Damian Grammaticas said: "This eight-day visit to the UK could put Britain's ties with China under new strain.
"Since the Prime Minister David Cameron met the Dalai Lama in London last month Beijing has frozen diplomatic exchanges with British ministers.
"China's Communist rulers insist Tibet's exiled spiritual leader, a former winner of the Nobel Peace Prize, is an enemy of the Chinese state.
"He says he only wants to end oppression of Tibetans and win autonomy for his people."
Leeds is due to host China's pre-Olympic Games training centre, with about 220 athletes, coaches and support staff based in the city from early July.
'Wonderful opportunity'
Leeds City Council said the hosting deal was worth £250,000.
The Dalai Lama is the latest high-profile guest at the Yorkshire International Business Convention.
Mike Firth, convention founder, said: "He is one of the most travelled men in the world, he has spoken with the most prominent of world leaders, and is one of the most high-profile guests we have ever had."
Previous speakers have included astronaut Neil Armstrong, former Soviet President Mikhail Gorbachev, Archbishop Desmond Tutu and former US President Bill Clinton.
Mr Thubten Samdup, representative of the Dalai Lama, said the speech was "a wonderful opportunity for Yorkshire's business leaders to hear a distinctive message of ethics and morality from one of the world's most revered spiritual leaders".
His Leeds visit is part of an eight-day tour of the UK.
The Dalai Lama will appear with actor and comedian Russell Brand at a youth event at the MEN Arena in Manchester on Saturday.