China's Olympic threat over Dalai Lama's Leeds visit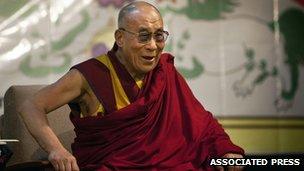 China threatened to pull its athletes out of their Leeds Olympic training camp due to a visit by the Dalai Lama to the city, the BBC understands.
The Tibetan spiritual leader is due to speak at the Yorkshire International Business Convention in Leeds on Friday.
It is thought Chinese officials asked Leeds City Council to put pressure on the organisers to cancel his visit.
The Dalai Lama visit will go ahead but the council has removed any association between itself and the convention.
In a statement, Tom Riordan, chief executive of Leeds City Council, said the convention was a private event not organised by the council.
"Whilst we are aware of some sensitivities around this year's convention, as it is not a council event we do not feel it is appropriate for us to make any further comment," he added.
Fabian Hamilton, the Labour MP for Leeds North East and chair of the All-Party Parliamentary Group for Tibet, said he did not blame the council for any decision made, adding that China often used "empty threats".
He criticised the "appalling human rights record" of the Chinese government and it telling "our elected representatives" not to have the Dalai Lama in Leeds.
Mr Hamilton said he did not understand the Chinese government's "visceral hatred" of the Dalai Lama.
Tibet is governed as an autonomous region of China and Beijing claims a centuries-old sovereignty over the Himalayan region.
But the allegiances of many Tibetans lie with the Dalai Lama, seen by his followers as a living god, but by China as a separatist threat.
When asked whether the Dalai Lama's visit to Leeds would have any impact on China's participation in the Olympics, the Chinese Foreign Ministry spokesman in Beijing, Liu Weimin, referred to Prime Minister David Cameron's meeting with the Tibetan spiritual leader in May.
He said: "We hope the British side stop making mistakes again and again, which undermine China's interests.
"China-UK relations have been affected by the recent meeting between the British leader and the Dalai Lama. The responsibility lies with the British side.
"The Chinese delegation is making preparations for the 2012 Olympics, I think politics and sport should be separated."
Leeds is due to host China's pre-Olympic Games training centre, with around 220 athletes, coaches and support staff based in the city from early July.
Leeds City Council said the hosting deal was worth £250,000.
The convention's website claimed other speakers on the day would include Mary Portas, Steve Cram and Michael Portillo.
Related Internet Links
The BBC is not responsible for the content of external sites.