Occupy protesters camp at empty Westfield site in Bradford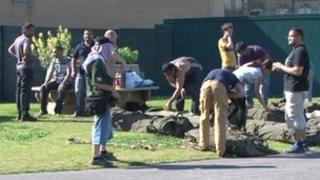 Protesters who have set up camp on a derelict site earmarked for a shopping centre in Bradford claim they will stay for at least a week.
Work on the Westfield retail development started in March 2004 but was halted in February 2008 leaving a building site in the city centre.
The group, called Occupy Westfield, said it wanted building work on the stalled project to restart.
Westfield said it was "working hard to get the retail development going".
Occupy Westfield said it hoped to raise awareness about the lack of progress.
'Miles behind now'
One of the protesters, known as Mr V, said: "We've got a hole in our city centre and people don't quite know why it's there.
"It's been there for the best part of 10 years now and people want answers including myself."
It is reported about 50 protesters moved on to the derelict land and pitched up tents on Saturday.
Occupy Westfield said it had been inspired by the anti-capitalist movements in Leeds and Sheffield last year.
Mr V said: "Thirty years ago Bradford was a thriving city, miles ahead of Leeds but we're miles behind now.
"I think we will be noticed. What will be done - I'm not too sure. But as long as we're noticed and we get the awareness that's required and Bradford is put into discussion, then we have what we need."
The Westfield group said it was currently in "intense negotiations" with retailers and was "working extremely hard" to move the development forward.