Holy Communion for Down's syndrome boy after church ban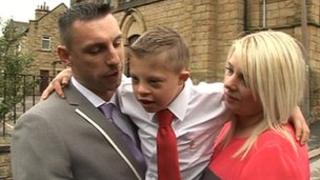 An eight-year-old boy with Down's syndrome who was refused an opportunity to receive his first Holy Communion has taken the sacrament.
The Diocese of Leeds previously said Denum Ellarby, of Gomersal, West Yorks, was unprepared for the experience.
The refusal was revoked after Denum took part in weekly one-to-one Communion classes with a volunteer from the diocese.
His father Darren Ellarby said: "He's now been accepted by the church."
Denum took Communion at St Mary's Catholic Church in Batley, with classmates from St Mary's Catholic Primary School.
His mother Clare Ellarby said: "It means a lot to us that this day has come and everything has gone just as we want it to."
She added it was a relief after "everything we've been through to get here".
Mrs Ellarby had fought for Denum to be allowed to participate and take this "religious step" with his school friends.
The Diocese of Leeds declined to comment on the altered position.